Popular Types Of Customized Rigid Boxes
Printed rigid packaging boxes are available in various kinds and styles, and every type has its benefit and purpose. Other than the available styles, you can also have customized rigid packaging. Some of their available kinds and styles are given below:
Partial Finish
Boxes with partial finishes only cover the box's outside. As a result, the interior chipboard can be seen. There is no extra outer layer. Additionally, it keeps the grey or Kraft chipboard material visible. As a result, it is not finished. It has only been partially finished. Partial finish Wholesale Rigid Boxes are made up of solitary chipboard pieces. For folding, they have perforated creases. Only the inner edge of the boxes is wrapped. They are also simple to create. So, only a few materials are needed. As a result, they produce more quickly and with higher quality.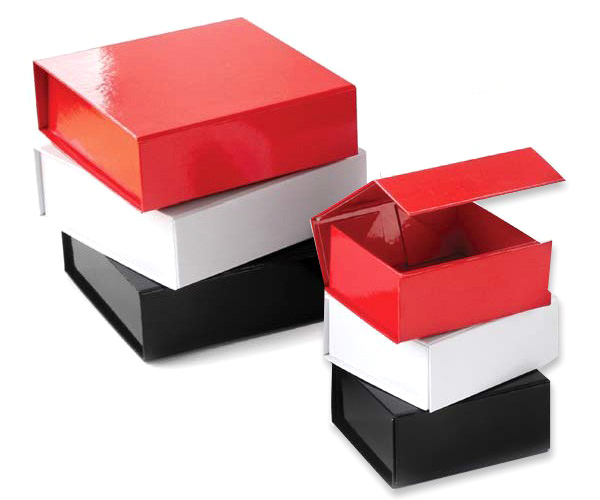 Full Finish
No chipboard is apparent in the whole finish. The rigid object is completely covered. The chipboard has a thickness of 2-3 millimeters. It is preferable to an inferior job. Different pieces of chipboard are attached to each side of the box. As required, several finishing choices are available. These boxes furthermore have a wrap around them. It can be printed or default white.
Tube Packaging
Rigid tubes, also known as rolled-edge tube packaging, are a unique and environmentally friendly paper packaging option for those who need to stand out and be different. A rigid box with no corners, a cylindrical form, and typically a telescoping or shoulder-neck opening is known as rigid tube packaging. The Pringles can be the most widely recognized example of a rigid tube. In addition, smaller items like beverages, cosmetics, stationery, and accessories are frequently packaged in rigid tubes because they have an easy opening mechanism.
Magnetic Closures
When two magnets in rigid packaging boxes with magnetic closures lock together to form a strong seal, the pleasurable "snap" can be strangely addictive. Wholesale rigid box packaging boxes with magnetic closures have two magnets that lock tightly to seal the box shut. Since custom rigid boxes may be ideal storage units for jewelers, cosmetics, and just about anything else, buyers will be very reluctant to throw them away due to their durable and solid design, making them a sustainable choice (depending on the size of the box). Additionally, structural engineering enables a distinctive and upscale sense. Your consumers will undoubtedly remember the stylish unpacking experience provided by the magnetic closure! Standard and custom magnetic closing boxes are available.
Read More: 5 Best Learning Management Systems In The USA 2022
The foldable magnetic closure rigid box is packed and sent flat, which can significantly lower shipping and handling costs even if the standard version is more robust and durable. The double-sided tape that comes with collapsible rigid packaging boxes typically sticks to the foldable faces of the box, rendering it collapsible for your clients. Your customers won't even know they are collapsible unless they closely inspect them.
Telescopic Rigid Packaging Boxes
Rigid packaging with the lid extended vertically from the base, rigid telescope boxes are also known as top load rigid packaging boxes, 2-piece rigid packaging boxes, or cover and tray rigid packaging. Even though the iPhone box and the Monopoly game box look and feel very differently, this is your typical Monopoly game box opening. The base can gently float out from beneath the lid of higher-end telescope boxes, constructed with exact specifications to allow for friction and a slow opening speed. In addition, since the lid and base of telescopic boxes have four overlapping sides when closed, they are more durable than other rigid box designs. As a result, it is the best solution for items anticipated to be used often, making it a durable packaging alternative.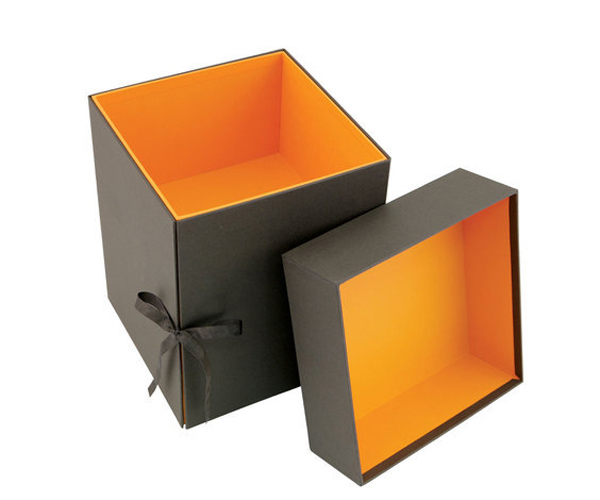 Drawer Style Rigid Packaging Boxes
Opening a drawer, especially one the size of a tiny box containing a new item, can be pleasing. Since they open much like matchboxes, rigid wholesale boxes in the drawer design are often called slipcase, slide, or match wooden packaging boxes. Drawer-type rigid boxes resemble rigid telescopic boxes, but from a different angle—literally. They either have a connected ribbon pull or a semi-circle thumb hole. Products you want to maintain straight and level for when a consumer opens the package are perfect for telescope boxes. Additionally, drawer-style Custom Boxes can be produced with built-in kid safety features.
Book Style Rigid Packaging Boxes
Because it opens like a hardback book, the booking form rigid box is an inventive and creative rigid box packaging choice, it can be created with a straight or rounded back to make it look precisely like a book. Magnetic attachments can also be incorporated into this rigid packaging type. Even though this package style is relatively distinctive, depending on your niche. It may be pretty helpful for enhancing your brand identification. Pairing your candle brand with books to offer the best unboxing experience is a beautiful example.
Shoulder Neck Rigid Packaging Boxes
This rigid box contains many layers, including an interior layer with a distinct neck or shoulder that a lid may rest on top of. Given that it can be further personalized to fit the colors and designs of your business. This form of packaging is fantastic if you want to create a distinctive unpacking experience! Following your choice of rigid box packing, the subsequent step is to consider the additions that will be placed within. Designers sometimes opt to partially reveal the neckpiece of the shoulder-neck rigid box to give the appearance of several layers or wrapping. Which can captivate clients' curiosity as they examine a high-end product.
How to become the best packaging choice for custom bakery boxes?
As with time bakery foods are expanding at a great pace. To make things way better than they are now different types of materials are there in the industry. As bakery items are gaining popularity and becoming in daily use. That is why they need proper packaging in the form of custom bakery boxes. As more customized bakery boxes are there because they help baked items to reach safely. 
Customization of bakery boxes
All these custom bakery boxes are designed in such a way that they can make your cookies or bread to be safe completely. These bakery packaging boxes help them to remain safe from any kind of harmful substance. Due to sudden changing in society and especially after covid 19 more people are using bakery food in their meals.
And now people are using a significant amount of bakery items in their foods. But with benefits, there are certain harmful aspects too which can cause bakery food to become contaminated too.
Like if any kind of microbial attraction occurs on them it will spread like a fire and destroy all the bread or whatsoever the item. Thus to protect the quality and secure food taste over all you need to have proper packaging material which will help you a lot.
Variety of bakery box wholesale
Often times these bakery box packaging is in square boxes. And all these bakery packagings primarily protect cakes and muffins from any kind of harm. Which otherwise might have destroyed their taste of them. But when customized bakery boxes are used there help you in saving bakery items. Most often square and four welled boxes are used. Which have a lid on them too. So, that the pastries or any other product remain healthy.
Use of friendly bakery packaging boxes
There is a number of packaging materials out there in the markets but choosing the right one is important. When customization applies to these boxes they look completely different.
These custom bakery boxes come in different sizes and shapes according to the preferences of the customers. So according to the type of bakery item these boxes are spacious. So that things get fit in these boxes easily.
As far as the packaging is concerned luxury bakery boxes are made with eco-friendly kraft paper. Which allows bakery box packaging to be fit for the job. And don't let microbes grow on these boxes. But now cardboard is becoming more common. For making customized bakery boxes cardboard boxes play an important role. These boxes are the better choice for displaying them in retailers' shops. often time cardboard material is used to make small-size bakery boxes wholesale for cakes and cupcakes and for muffins too.
Cardboard bakery packaging box with die-cut window
Bakery boxes in bulk are made in different designs and styles so that they can attract more customers easily. when die-cut window applies to custom bakery boxes they look more attractive. And customers can see the whole product inside it. These types of luxury bakery boxes display the whole item inside them. So that customers can have an idea of what is inside these bakery box wholesale.
High thick wall boxes
There are certain items that need packaging which is tough and strong enough to save the food inside it. For instance, there are cakes or other bakery products which are sensitive enough and they can make resistant to moisture and sublight way and keep bakery boxes in bulk a useful product.
Wrapping up
The number of edible packaging is there. And with time they are becoming more and more. But if proper bakery packaging material is used for making these boxes. It will be a beneficial addition. But when cardboard material is used you can have customized bakery boxes in many shapes and sizes. All these bakery box packaging will save food from external harm and make edibles free from extra moisture. Thick-walled bakery packaging also prevent sun light from ggetting in. thus protecting bakery items from eternal exposure.
Custom Beard Oil Boxes – An Ideal Packaging Solution for Your Brand
There are numerous brands that are striving hard to deliver the customers the best packaging solutions. Beard oil is quite famous among men as it helps them to upgrade their personalities. Such oils come in glass containers or bottles that are fragile and delicate and may break easily because of a slight hit. To keep these beard oil bottles safe and secure, custom beard oil boxes are preferably used. These packaging solutions are not only helpful to keep your items protected but they also play a major role in marketing your brand.
The specific graphics and vibrant logos engraved on the packaging will help you increase the interest of customers to buy your items. You can make your packaging boxes attractive with the help of creative designs and vibrant color schemes. You can also boost the profitability and marketing of your brand with such packaging solutions. You can also customize the boxes with perfect coating and finishing techniques. These boxes have the following benefits for upgrading your brand:
Provide Ultimate Protection to Delicate Bottles
The beard oil bottles are protected and secured with the help of custom beard oil boxes. This will increase the trust of your customers as well. The boxes are manufactured with the perfect sizes and dimensions that will be able to fit the beard oil bottles in the packaging. The shapes of beard oil containers will be kept under consideration while creating the boxes. You can make the packaging look magnificent by incorporating any style and dimension into the packaging. In some cases, the brands require the placement of specific inserts in the packaging that provide some extra protection to the containers. You can also keep the beard oil safe from being spill off in the packaging by using such inserts.
Cost-Effective for Your Small-Scale Business
Various small-scale businesses can easily afford these packaging solutions because of their cost-effective production process. Various companies that are dealing in the manufacture of boxes deliver the customers with free customization services. You can also get templates for the best and perfect design of your packaging. Small businesses can take advantage of such amenities from different box-providing companies and get a speedy upgrade in their business. You can choose to add any design to the packaging and incorporate perfect aesthetic effects to make the customers enticed to purchase your products. Custom beard oil boxes are the perfect asset to keep your sales upgraded with accurate finishing being within your limited budget.
Ecologically Safe Cardboard Material
There are a lot of packaging types in the world. The most deteriorating for the environment is plastic packaging which has a severe adverse impact on the environment. You must choose the packaging material that is ecologically safe and secure to use. The material must also be efficient enough to promote sustainability in the world and have zero impact on the surroundings. The kraft material used in custom beard oil boxes will help you increase the value of your packaging and engage more customers towards your brand for better profitability. The eco-friendly packaging solutions will help you reduce the number of waste items introduced in the surroundings. Such packages can be reuse as well with the help of recycling methods.
Engage Customers with Your Brand
You can increase the beauty of your packaging with the help of perfect design. The vibrant and attractive colors can be use to make the boxes look attractive. You can choose any color scheme such as CMYK color model, PMS color pattern, and RGB color scheme. Professional designers of boxes use advanced technology equipment to modify your packaging in a distinctive way. The aesthetic effects could also be add to the packaging that looks fascinating to customers. The logos and labels imprint on your packaging will be highly appreciate for their bright colors. The use of distinctive styles in the packaging such as sleeve style boxes, die-cut packaging, window style packaging, collapsible packaging, and a number of others.
Effective Marketing Tool Custom beard oil boxes
Effective Marketing Tool Custom beard oil boxes are the perfect tool to increase the advertisement of your packaging. You can incorporate attractive styles in the boxes that will enhance the value and worth of your boxes and make them look different from other brands. The attractive logos imprinted on the packaging will help your customers to remind your brand name. They can also spread the word to others as well in a way to increase the publicity of your brand. This will add an increase in your profit ratio and enhance customer satisfaction as well. You can attract your target audience and potential buyers to your brand with the help of these captivating packaging solutions. This can be a great opportunity for you to increase client interaction and boost the marketing of your products by using captivating designs and styles on the boxes.
Things To See in Mongolia – Why Mongolia Should Be In Your Travel Bucket List
Mongolia is a landlocked country in East Asia bordered by Russia to the north and China to the south. It's a less popular tourist destination compared to other Asian countries, but it offers a unique travel experience.

From its vast steppes and desert landscapes to its rich nomadic culture, Mongolia is a place like no other. Here are some of the things you can see and do in Mongolia that make it worth adding to your travel bucket list.
Reasons to Visit Mongolia
Mongolia is a land of stunning natural beauty, with endless steppes, forests and mountains to explore. It's also home to a rich culture and history, with a fascinating nomadic way of life that has been largely untouched by the outside world. Here are just a few of the reasons why Mongolia should be on your travel bucket list:

-The friendly people: Mongolians are some of the most hospitable people in the world, and you'll be made to feel welcome wherever you go.

-The landscape: From the vast Gobi Desert to the snow-capped Altai Mountains, Mongolia offers a wide variety of landscapes to explore.

-The wildlife: Mongolia is home to an incredible array of wildlife, including rare species such as the snow leopard and argali sheep.

-The history: Mongolia has a long and fascinating history, dating back to the days of the Mongol Empire. You can learn more about this at historical sites such as Kharakorum, the former capital of the empire.

-The nomadic lifestyle: One of the best things about Mongolia is its traditional nomadic way of life. This means that you can experience something completely different from your usual day-
What to See in Mongolia
If you're looking for an off-the-beaten-path travel destination, Mongolia is a great choice. This landlocked country in Central Asia is filled with natural beauty, from its sprawling steppes to its dramatic mountain ranges. And while it may not be as well-known as some other Asian countries, it's definitely worth a visit. Here are some of the things you can see and do in Mongolia.

Visit the capital city of Ulaanbaatar, where you can explore its museums, shops, and restaurants. Or head out into the countryside to see nomadic life firsthand. You can go horseback riding, try your hand at archery, or even stay in a traditional ger (yurt).

Make sure to visit some of Mongolia's stunning national parks, such as Terelj National Park with its towering rock formations, or Gorkhi-Terelj National Park with its sweeping valley views. And don't forget to check out Lake Khövsgöl, one of the largest freshwater lakes in Asia.

Whether you're looking for adventure or simply want to take in some breathtaking scenery, Mongolia is a place you won't want to miss. So add it to
Where to Stay in Mongolia
Mongolia is a vast country with plenty of accommodation options to choose from, ranging from traditional Mongolian yurts to more modern hotels. Where you stay will largely depend on your budget and where in Mongolia you plan to travel.

If you're looking for a true Mongolian experience, staying in a yurt is a must. Yurts are the traditional dwelling of the nomadic Mongolian people and are still used today by many herders. Staying in a yurt will give you a taste of the nomadic lifestyle and some peace and quiet away from the hustle and bustle of city life.

There are plenty of hotels to choose from in the capital city of Ulaanbaatar, as well as in other major cities such as Erdenet and Darkhan. Ulaanbaatar has a wide range of accommodation options to suit all budgets, from high-end luxury hotels to more affordable mid-range options.

Outside of the cities, there are also a number of eco-lodges and campsites dotted around Mongolia's stunning landscapes. These are often located in remote areas and offer a great way to immerse yourself in nature.
How to Get Around Mongolia
If you're planning a trip to Mongolia, you'll want to know the best way to get around the country. The good news is that there are plenty of options for transportation, whether you're looking to take the bus, train, or even a horse! Here's a quick guide to help you figure out the best way to get around Mongolia.

By Bus: Buses are a popular option for getting around Mongolia, as they are relatively inexpensive and can get you to most parts of the country. The downside is that they can be crowded and uncomfortable, so if you're looking for a more comfortable journey, you may want to consider another option.

By Train: Train travel is a great option if you're looking for something a bit more comfortable than taking the bus. The downside is that it can be more expensive and trains can sometimes be delayed.

By Horse: Yes, you read that correctly – horses are actually a popular form of transportation in Mongolia! If you're looking for an authentic Mongolian experience, then this is definitely the way to go. Just keep in mind that it can be quite a slow journey if you're not used to riding horses.
What to Eat in Mongolia
If you're looking for a truly unique culinary experience, Mongolia is the place for you. The country's nomadic heritage means that traditional dishes are often cooked over an open fire, giving them a smokey flavor that you won't find anywhere else. flock of sheep or goat. One of the most popular dishes is mutton stew, which is made with tender chunks of lamb cooked in a hearty broth. Other staples include yak meat and cheese, as well as a variety of fresh fruits and vegetables.

When it comes to drinks, Mongolia is best known for its fermented mare's milk, which is said to have health benefits including boosting the immune system and aiding digestion. If you're not adventurous enough to try it, don't worry – there are plenty of other options available, from Mongolian beer to locally-produced wines.
Conclusion
Mongolia is a truly unique and special place that should be on everyone's travel bucket list. From the stunning landscapes to the rich culture and history, there is something for everyone in Mongolia. If you are looking for an amazing and unforgettable travel experience, Mongolia is the perfect destination.
If You Are Looking For Things to See in Mongolia You Must Need To Contact Discovermongolia

Visit Here For https://www.naga19.com/ More Blogs